ALMOND SEEDLINGS or
ALMOND FRUIT TREE PLANT
Almond Seedlings in Gajić Nursery!
Almond Almond is a valued, high calorie and nutritious fruit, both domestically and internationally. The fruits contain high quality fats, proteins, carbohydrates, minerals and aromatic substances as well as vitamins. In addition to its significant use in local cuisine, its role in the food, pharmaceutical, confectionery and cosmetic industries is also significant.
Almond is one of the oldest cultures. It was introduced into the culture in the 6th century BC by the ancient Greeks, who established their colonies around the Mediterranean countries. Today, almonds are most grown in Italy, Spain, Greece, Morocco, California (USA), etc.
The almond grows to a medium-sized tree, 3 - 8 m high, depending on the variety, soil quality and climatic conditions.
Seedlings of ALMOND - MARCONA: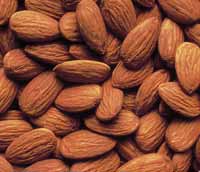 Description:
Almond - Marcona seedlings have the following characteristics
Marcona almond are medium-sized, full of pits, elliptically flat to round in shape.
The seed is very rich in oils.
Does not tolerate low temperatures very well, is sensitive to late spring frosts. Enjoys the sun and withstands dry periods.
Ripening time: Mid or late September.
Rootstock: Vineyard peach.
Take a look at other Fruit Seedlings or Vine Grafts offered by Voće Kalem Gajić Nursery!