QUINCE SEEDLINGS
or
QUINCE FRUIT TREE PLANT
QUINCE seedlings are seedlings that have become more popular lately, because quince products are valuable.
When it comes to growing the quince, what is very important is soil, more precisely its quality. Quince fruit tree plant require soil that is permeable, drained, loose, fertile. Too lime soils, with more than 5% lime, are not suitable for quince because they suffer from chlorosis on such soils. The quince also does not respond well to soil that is too moist and cold, salted and eroded.
The quince tolerates drought well.
Fruit seedlings QUINCE - VRANJE:
Description:
The VRANJE quince seedlings are of domestic origin. This variety is also known as "Dunjac".
The tree of this variety of quince fruit tree plant is very lush until the beginning of fruitfulness, and then the lushness somewhat decreases.
The skeletal branches come out at a sharp angle, and when the fruitfulness starts, they bend from their half into an arch toward the ground.
The tree is more susceptible to diseases and pests than Leskovac quince.
The fruits are large, pear-shaped, golden yellow in color. The fruit is large to very large (400-1500g).
The fruit is pear-shaped and bigger in height than in width. The epicarp is of medium thickness, smooth, yellow, fuzzy, with a distinct scent at full fruitfulness. The fleshy part is pale yellow, slightly juicy and sweet-sourish. It is a self-fertilizing variety, used as a pollinator for Leskovac quince.
Ripening time: First half of October
Rootstock: Quince BA-29
---
Fruit seedlings QUINCE – LESKOVAC – SERBIAN GOLD: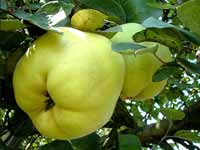 Description:
Quince Leskovac seedlings are of domestic origin.
The tree is lush in the initial growth period, but as soon as it sprouts, the lushness decreases and could be designated as medium.
The crown is broad, round, and with bent branches that fall to the ground under the burden of the fruit.
It is quite resistant to disease and pests.
The fruit is apple-shaped, round, flat or ribbed, large to very large (200-500g).
The fruit is large, round- or apple-shaped, savory, lemon-yellow in color. The fleshy part is firm, juicy, of a sweet-sour taste.
The epicarp is lemon-yellow, fruit is fine-grained, sour, of fine aroma.
It is partly a self-fertilizing variety of quince seedlings. It is considered to be the highest quality and most delicious variety of quince.
Ripening time: Beginning of October
Rootstock: Quince MA