MEDLAR SEEDLINGS or
MEDLAR FRUIT TREE PLANT
MEDLAR Seedlings in Gajić Nursery!
Seedlings of MEDLAR - DOMESTIC: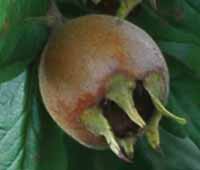 Description:
Domestic medlar seedlings produce very large fruit. The fruit of the medlar is round in shape. The taste is sweet-sour. It is a highly resistant species and can be grown without chemical protection.
Ripening time: Beginning of October
Rootstock: Quince MA
Take a lookat other Fruit Seedlings or Vine Grafts offered by Voće Kalem Gajić Nursery!