FRUIT TREE PLANT OFFER
Take a look at the Fruit Seedlings varieties we have in our offer
FRUIT SEEDLINGS AND VINE GRAFTS - UNIQUE, OFFERED TO YOU ONLY BY THE NURSERY VOĆE KALEM GAJIĆ
FRUIT SEEDLINGS – WHAT SETS OUR NURSERY APART FROM OTHERS!
We want to show you in person how the fruit seedling uprooting in Gajić Nursery looks like!
Turnkey orchard growing - Planting fruit seedlings (fruit tree plant) or maintaining orchards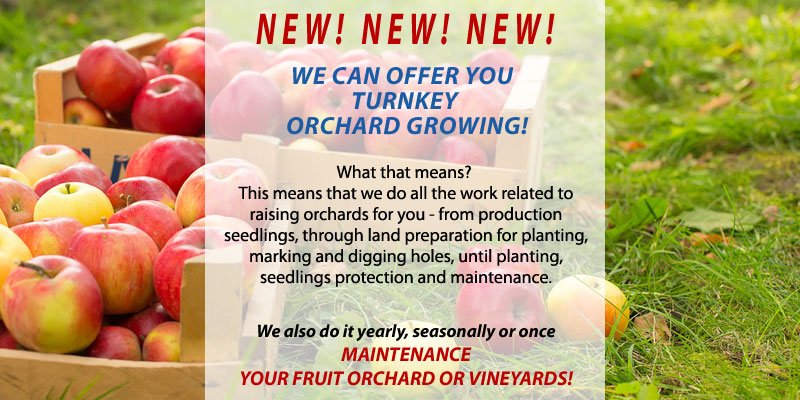 FRUIT SEEDLINGS OFFERED BY OUR NURSERY
ABOUT US - FRUIT SEEDLINGS GAJIĆ NURSERY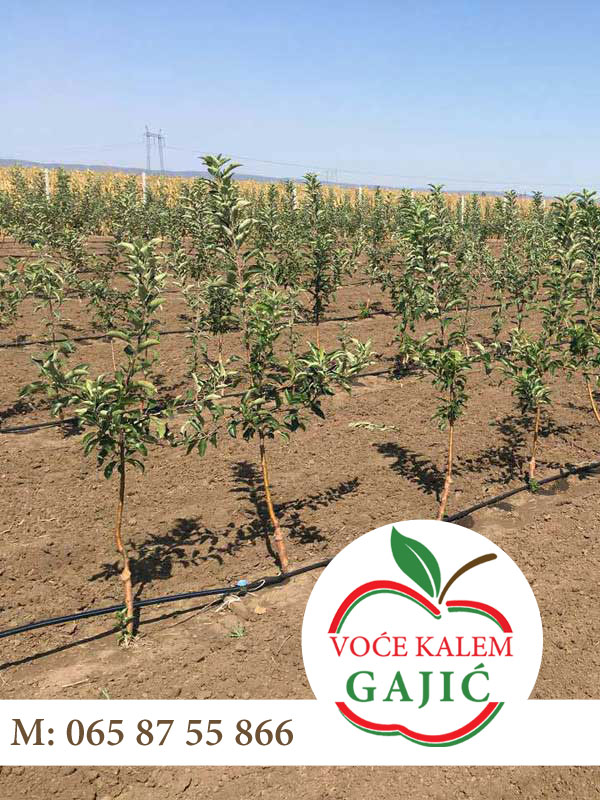 GAJIĆ Nursery, Welcome!
Fruit seedlings in Gajić Nursery are certified and top quality.
We offer a wide range of fruit and grape planting materials.
Voće Kalem Gajić Nursery guarantees quality, accuracy and purity of the planting material, fruit seedlings and grapevines.
Gajić Nursery is located in Rasina District, in a village called Ljubava near Kruševac.
Our Nursery has a tradition in the production of planting material of over 50 years that is passed on from one generation to another.
What we can boast about is that when it comes to the production of planting material, behind us is a tradition of over 50 years, passed down from generation to generation, which is something we are particularly proud of. We learned from the best, but we did not stop there. We constantly update our knowledge, follow contemporary trends and strive to always stay on top. This is, after all, the least you can expect and ask from us.
As a Nursery with a long tradition, we are constantly supplementing our range with new fruit varieties, but in addition to fruit seedlings, we also offer vine grafts.
Gajić Nursery guarantees quality, accuracy and purity of planting material, fruit seedlings and grapevines.

HIGH QUALITY FRUIT SEEDLINGS AND VINE GRAFTS!
In our nursery you can find, in addition to all types of certified and standard vine grafts and fruit seedlings, ornamental and columnar fruit seedlings that can beautify your yard or living space. The seedlings are of the highest quality and comply with the Ordinance on the quality of planting material. All seedlings are certified and virus free.
---
COOPERATION RELATED TO THE PRODUCTION OF FRUIT SEEDLINGS!
We sell fruit seedlings at the most favorable prices. How do we do that? We do it by working together with you
If we know in advance what and how much you need, it is easier for us to offer you a good price!
If you are planning larger plantations, it is very important that you contact us in time so that we can arrange particular cooperation. According to the agreement, we will produce fruit seedlings and they will have the most favorable price - whether it is the production of knipboom seedlings, formed one-year seedlings with temporary branches, two-year seedlings or classic fruit seedlings or vines.
---
DELIVERY OF FRUIT SEEDLINGS - PLANTING MATERIAL!
In addition to the sale, we also deliver planting material to your home address. All you need to do is call us and order the desired fruit seedlings, and we will, of course, produce them but also deliver them as soon as possible.
Larger quantities of fruit seedlings are delivered free of charge and smaller are sent by courier.
City Express Pricelist
OUR CURRENT SPECIAL OFFERS!
In order for you to be better informed, we will do our best to describe as many varieties of fruit as possible, as well as planting techniques, protection and anything that may be of use to you in growing an orchard. Our goal is not for you to buy fruit seedlings in our Nursery once, our goal is for you to come back and recommend us.
STEPS IN PLANTING FRUIT TREES:
1. Choice of type, variety and substrate
Before planting, you need to decide on the TYPE, and then the variety of fruit that we will plant. You should bear in mind that most fruit varieties are not self-fertilizing and that they need a pollinator. In addition to deciding which type of fruit to plant, it is also necessary to decide on the substrate on which that type of fruit is grafted. The choice of the substrate influences the lushness, so when it comes to their lushness the substrates can be divided into lush, medium-lush and undeveloped, that is, poorly lush.
The selection of the substrate is also made based on the composition of the land on which seedlings are planted and the composition can be found out by analyzing the land, for which it is best to contact the agricultural advisory services in your municipality or city.
2. Digging holes for planting fruit seedlings

Planting holes get opened just before planting. Digging is done right next to the markers, which mark the planting spot, and always on the same side of the marker, making sure that the markers remain intact. If a straight edge tool is used for planting, then a hole is dug between the two markers. The diameter of the planting spot should be slightly larger than the diameter of the root of the seedling, in order for root hairs to be easily inserted into the hole and take the most natural position.
3. Direct preparation of seedlings for planting
Fruit seedlings get examined and the last check of their correctness is performed. All damaged, substandard and medically unsafe seedlings are removed. On healthy seedlings, the main root hairs are shortened to 15-20 cm long. On the torn root hairs, the cut offs are renewed to the healthy place. If late winter or early spring planting is carried out, it is advisable to prepare the seedlings for planting after their removal from the nursery, and before trenching. Small root hairs should not be removed or shortened if they are healthy.
4. Method of planting fruit seedlings

Planting is always done at about the same depth at which the seedling was in the seedbed. Planting depth is easily determined by the color of the bark. The part of the seedling that was in the ground is brighter than the part that was above the ground. Planting should be done by two workers. One places the seedling in the center of the hole, holds it vertically and checks that it is in the same direction with the markers.
If a straight edge tool is used, then the seedling is placed in the middle notch and the markers are placed in the lateral notches on the straight edge tool. The other worker spreads loose and moderately moist soil over the roots of the seedling. Easy pulling of the fruit seedling allows for better filling of the space between the root hairs. The soil is slightly stepped on to push out the air and make better contact between the ground and the root hairs. New soil is added and stepped on again.
When the hole is almost full of soil, the seedlings are watered with about 10 liters of water (necessary especially if planting is done in spring). After absorbing water, 100-150 grams of NPK fertilizer is added to the hole. It is advisable to add 2-3 shovels of manure. At the end, the hole is completely covered with soil. Planting is well done if the seedling cannot be pulled out by a slight hand pull and if the manure and mineral fertilizer have not come into direct contact with the root hairs.
Impressions of our valued customers!
(see on google maps)
Large assortment of high quality fruit seedlings. Commodity is praiseworthy. Communication and agreement very honest. Personal delivery done at the agreed time, very expeditiously!!! My sincere recommendations!!!
They have beautiful and quality seedlings.
MOST COMMON MISTAKES WHEN PLANTING FRUIT SEEDLINGS
Fruit seedlings are never planted when temperatures are below zero and when the ground is frozen.
1. Be sure to do soil analysis before planting fruit seedlings.
This mistake is so common with our fruit growers. They usually raise orchards without soil analysis. What does this analysis show us? Soil analysis shows you the current state of your soil, the state of nutrients, organic matter, ph and everything you need to know for quality fruit growing.
2. Next, inspect the condition of the fruit seedling itself before planting.
Remove the fruit seedlings from the bag containing the fruit seedlings and see the condition of the root system. Make sure that the root of the fruit seedlings is healthy and shorten it by 1/4. Doing so will encourage it to develop and continue with rooting. Do not plant the seedlings as you receive them or with the contents of the bag in which the seedlings come.
3. Perform the disinfection of the fruit seedling root.
You will do this by placing a fruit seedling in a bin, with a mixture of water, fertilizer and soil. If necessary, you can add some fungicide as recommended by your agronomist or expert advisor. It is best if you leave it sit in that mixture for the next 24 hours.
4. The most common mistakes that are made in the hole itself when planting fruit seedlings ...
Book your fruit seedlings today, don't hesitate
Fruit Seedlings - Fruit Tree Plant - First Quality Only - Gajić Nursery!
Fruit Seedlings - Serbian areas covered in fruit
and prospects for fruit seedling production
Thanks to the census in agriculture done in 2012 in the Republic of Serbia, for the first time in the last 50 years, accurate data on the areas occupied by fruit trees or orchards have been obtained.
The structure of utilized agricultural land is as follows:
Arable land and gardens 73,1%
Meadows and pastures 20,7%
Orchards 4,8%
Vineyards 0,6%
Infields 0,7%
Other permanent plantings 0,1%
The census results show that fruit trees - orchards occupy 163.310 ha (without strawberries), or 4.8% of the total area of agricultural land. This is little considering the favorable climatic and soil conditions that our country has in terms of orchards and fruit growing in general.
A graphical representation of fruit planting and the proportion of orchards would look as follows:
Structure of utilized agricultural land in Serbia
The largest orchard areas in Serbia are in Western Serbia, Šumadija, the Danube region and parts of Southern Serbia.
In Vojvodina, there are large areas covered with modern fruit planting, but these areas are still significantly smaller compared to the aforementioned parts of Serbia.
Eastern and Southeastern Serbia are areas with much less fruit planting, generally with a much lower share of fruit growing in total agricultural production.
Fruit areas in Serbia by regions:
The Municipality of Grocka 7625ha, Valjevo 5657ha, Prokuplje 4565ha, Smederevo 4412ha and Čačak 4168ha, Other
Proximity to the Belgrade market is crucial for such distribution of fruit trees in municipalities in Serbia, and when it comes to other municipalities, crucial factors are, above all, favorable agro-ecological factors, inability to cultivate other crops, etc.
In the future, this situation in fruit growing, and taking into account the state of fruit growing in the world, will inevitably lead to growth in this area. Turning to this branch of agricultural production is expected, for the most part. This is good news for planters because it is expected that there will be the growing demand for fruit seedlings, and the production of fruit seedlings must also be more intensive.